Innovation Heroes: Triumph Through Adversity
Shezad Nawab is an award-winning entrepreneur  who has been actively involved in supporting a number of new business and start-ups over the last 15 years, as well working with SME's to help them to grow their businesses. He is also profoundly deaf.
In the second instalment of our Innovation Heroes series, we talk to Shezad and find out how he allayed his parents' worries and overcame his disability to become a successful entrepreneur running several businesses.
Born and raised in Birmingham, Shezad has always used British sign language, and has subsequently faced a lot of communication barriers in his life. Something that worried his father when he was younger. Asking him the million-dollar question: "How do you become rich?", prompted his father to express concerns for Shezad's future, about being deaf and how he would get on in life. But even then, the 10-year old Shezad had an unshakeable confidence, and told his dad not to worry, that he would succeed.
He went on to work with his parents in their businesses, running branches of the Post Office and a property development company they owned, where Shezad was able to gain valuable skills and experience.
Overcoming Early Disappointment
Shezad's childhood dream was to become an airline pilot, but being profoundly deaf, this was simply not possible. It was an early lesson in accepting his limitations and having to give up on certain dreams. He says:
"I was always keen to run my own business and become an entrepreneur, and this was something I focused on. Even as a child I was curious to see how people set up their own businesses and how they problem solved."
On The Importance Of Branding
Shezad learned an important lesson on the necessity of getting your branding right, very early on.
"When I graduated I set up Deaf Business Services Ltd – it was a good business and a good model, but there was a real key issue, which was branding. Despite my passion, and efforts to network and secure clients, I was getting the same feedback –  having the word 'Deaf' in the company was giving people to the perception that I was not-for-profit or a charity. So after that I rebranded to Business Consulting Management and kept it really light — and that made all the difference.
One of Shezad's key businesses offers consulting services to fledgling businesses, a company he says was inspired simply by common sense.
"I'm very pro-active, and I knew I had skills and knowledge that I could pass on to other businesses and people like me. So, I talked to them about their audience and about who they're trying to market to."
As well as helping to solve the usual issues that start-ups face, like lack of management structure and missing gaps, there are also specific issues that people with disabilities face.
"For instance, using everyday banking services – for deaf people even getting access to these services can be quite stressful and there are many more barriers than 'hearing' entrepreneurs would face. People in the deaf community have to work twice as hard."

The American Dream
Shezad now works with about 40 clients who are in the early stages of setting up their business, and a lot of his work is focused on increasing their confidence. He is keen for more deaf people to own their own businesses, explaining that there aren't many deaf business owners in the UK, and that we really lag behind countries like the US in this area.
"There are huge amounts of deaf business owners, financiers, accountants, restauranteurs and coffee shops owners in the US, whereas in the UK, it's a different picture. My real aim is to show that self-employment and running your own business is a viable option in the deaf community."
Finances, Philanthropy & Risk-Taking
Whilst obviously fiercely ambitious, it's clear that being able to help others is a strong motivating factor, besides financial gains. But it's a balance, as Shezad explains:
"If someone is just at the ideas-stage, we would just give them light-touch advice and mentoring. However,  if they have a healthy turnover and they are a business looking for development, growth and an exit strategy then, obviously, I would charge them fees and commission. But it's always a judgment call."
"I feel entrepreneurs have to face risks, but it's all about being prepared. Entrepreneurs must protect themselves, so it's about having non-disclosure and confidentiality agreements, having a very strong team around you that you trust, having iron-clad policies, and always, ALWAYS getting everything put in writing. It's about minimising risk as much as possible to stop problems further down the line."
Running A Tight Ship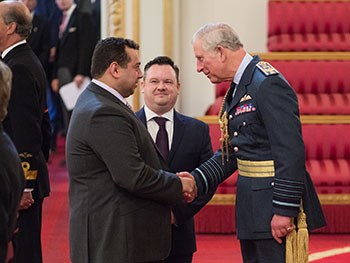 Clearly being idle is not high on Shezad's agenda and the fruits of his labour have certainly paid off – besides the reward of running several successful businesses, he was recently awarded an MBE for services to business and diversity, something he cites as his proudest achievement to date. He explains how he manages his time across his multiple endeavours:
"I have to have quite a strict schedule. I get up between 6 and 7 and make sure I always do the school run. To stay organised, I use a lot of emails as well as texts and Whatsapp and am very strict on keeping separate email folders for different companies I work with. But it is manic! Depending on what stage each business is at and level of urgency, I divide my attention accordingly. I find it helps to just stay positive and keep pushing forward."
The latest business venture by Shezad is a company called Sfhere, an organisation with a turnover of £2m+ that specialises in expanding UK based SME businesses into foreign markets whilst strategically positioning them for an optimal exit.
Unfortunately, having launched in 2016, Shezad's business is feeling the effects of Brexit."We had a huge amount of interest when we first launched and then unfortunately quite quickly after, the Brexit vote happened. It's had a real impact on our business. The market has gone incredibly risk-adverse, so currently we are looking at how to re-launch that in the light of Brexit. We have a few clients signed on, but it's slower than anticipated. However, the interest is now looking up so we are staying confident and positive – I believe it's a great business."
Leaving A Legacy
Family is clearly very important to Shezad. Whilst his wife is also deaf, his daughter, aged nine, is hearing, and it seems she may not quite have figured out what to do yet… "She is very keen on science, but at the moment she springs between science and wanting to be a pop singer! She has also got incredible sign language skills, so she may want to be a sign language interpreter. I know children have so many interests and change their mind about what they want from day to day. But I hope in the future she will pick something and really stick to it and apply herself  – and I hope that's what I have taught her."
Spreading The Word
Whilst Shezad is currently focused on Sfhere and attracting more clients, he's also doing quite a bit of public speaking on businesses and their international spaces recently. "I'm starting to get a lot of interest from Blue Chip companies to talk about how they can improve visibility of the deaf access for staff and customers. This is something I'm very keen on pursuing further, by doing speeches and maybe more public speaking in the future ahead."
A real inspiration. We wish him the best of luck!
You can follow Shezad on Twitter or visit his website.
To view the first instalment of our Innovation Heroes and find out how Aidan Fitzpatrick turned an identified problem into a multi-million dollar business within 18 months, click here.
Stay tuned for Innovation Heroes part 3, where we talk to Trunki founder Rob Law.
_____________________
Do you think you fit the bill and would like to feature in our Innovation Heroes series? Or know somebody who does? Get in touch by filling in the form below, we'd love to hear from you!
[contact-form-7 404 "Not Found"]